One day, Gérard appeared on Géraldine's shoulders from La République du chiffon.
Géraldine is the author of Un été couture , a collection of patterns for summer, which I think is by now being perused by all French sewists planning their summer outfits by the fireplace. Géraldine also has started to propose patterns on her website- and she works so fast, it can be hard work for the sewer at home to keep up with all these ideas.
Gérard is a coat with a boyish cut, very popular at the moment. I had what I thought was the a good match for it in my stash: a cotton-wool mix grabbed on a Paris trip to the Mecqua of affordable luxury fabric that is Sacrés coupons, at the bottom of the steps leading to the Sacré-coeur in Montmartre.
This cut is perfect for the thin and elegant stylish sewing French ladies in Paris and in Province. But would it work on this Breton Kittiwake who has very broad shoulders (and which have nothing to do with any swimming talent, by the way)?
Moreover, when Gérard was luring me into sewing 'him', I had never sewn a jacket, let alone line one.
Lining? Ah, yes, lining. How to choose the right colour of lining for a coat?
I could not make up my mind in the fabric shop.
I have in my stash a few liberty fabrics that I absolutely love but often find too osé for a garnment. Strawberry thief (originally designed by William Morris) is one of them. I know, it seems crazy to line a coat with such expensive material, but you know what? I am so happy everytime I grab Gégé that it is totally worth it. I highly recommend this splash of luxury. I am seriously considering lining another jacket with a different Liberty lawn very soon.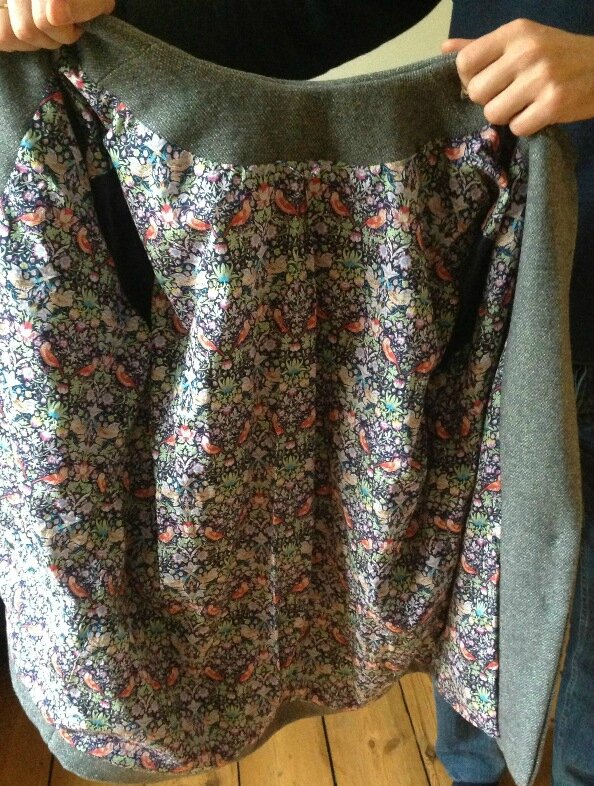 The pattern instructions are very clear regarding how to assemble the collar.
However, I had a few issues when it came to lining. Luckily, Géraldine and other sewers answered my questions as quickly as their network allowed them. Merci!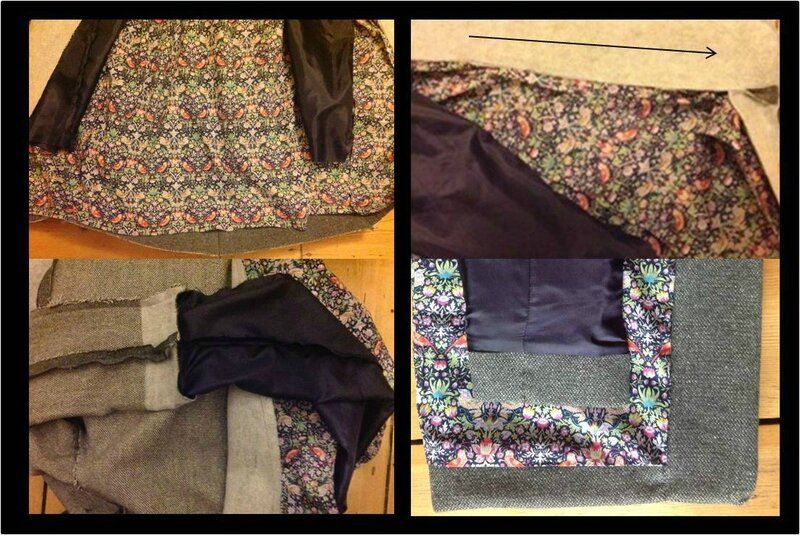 I sewed the lining and the coat separately, leaving a large hole in one of the seams of the sleeves lining. I then assembled the lining and the coat, right sides together, starting by sewing the bottom facing of the coat with the bottom of the lining, and following with the sides facings and the lining. Finally, I had to get the sleeves together on each side of the coat (see picture) and I sewed the hems of lining and sleeves fabric together. You then turn around the whole coat through the hole, et Voilà. I am sure there are better ways of doing it but this one sort of worked for me – at least for this time around!
If you follow the pattern instructions closely, it's not hard. By bird brain was just being slow as it normally is.
My friend Osiris (who is English and originally thought I was crazy to line my coat with Liberty Tana Lawn but has now come round to the idea) took the pictures.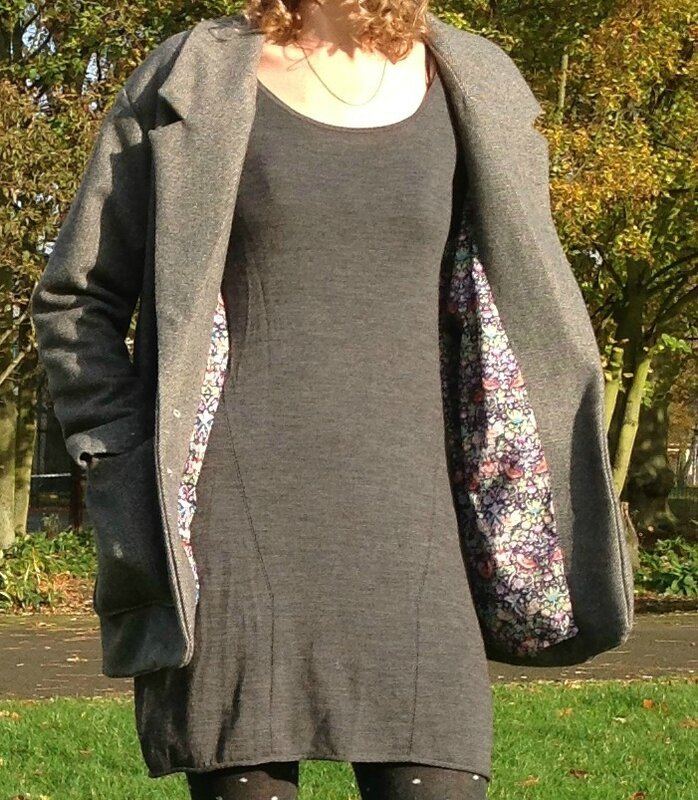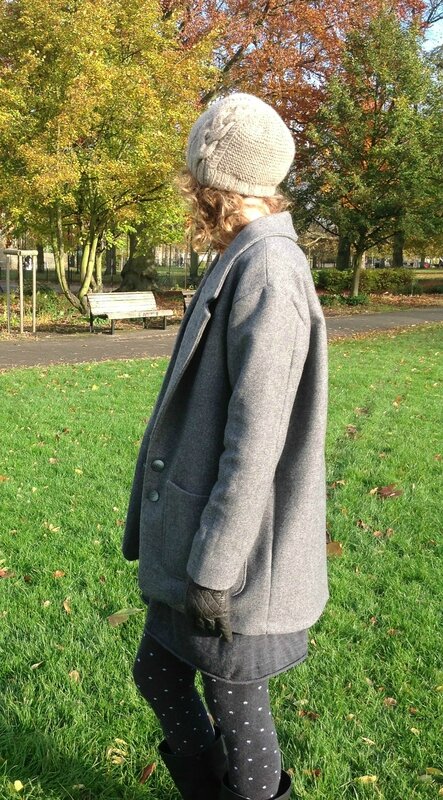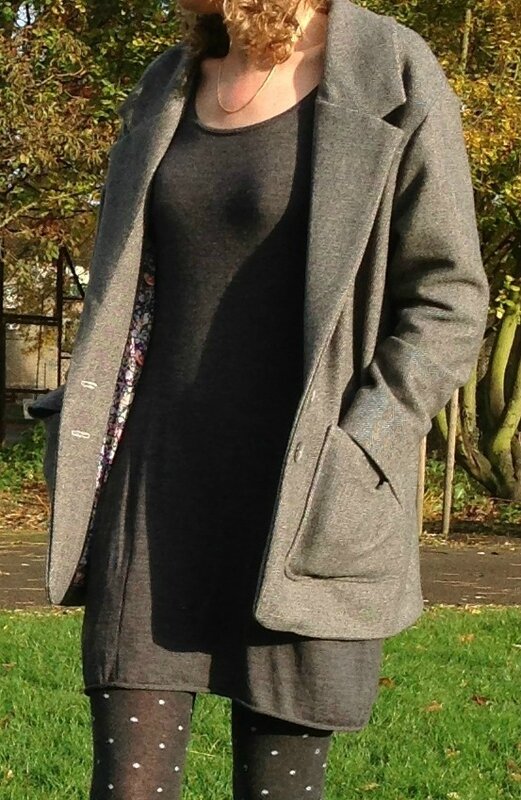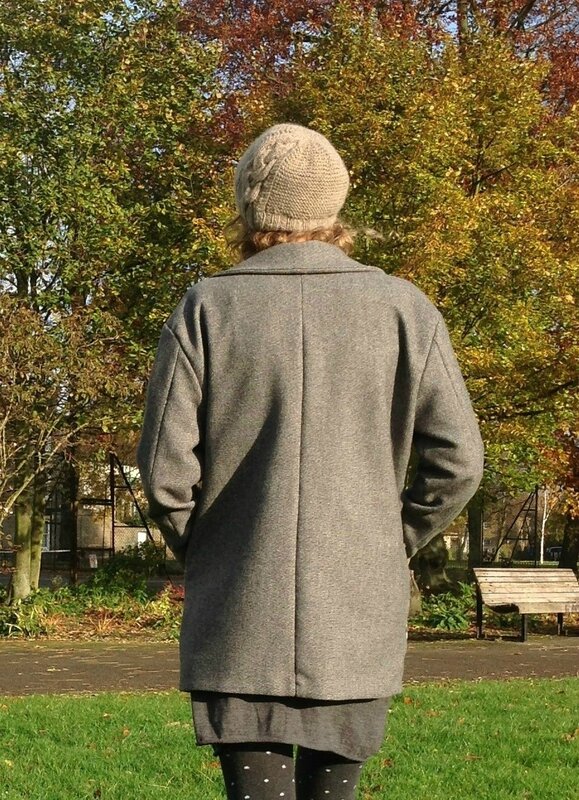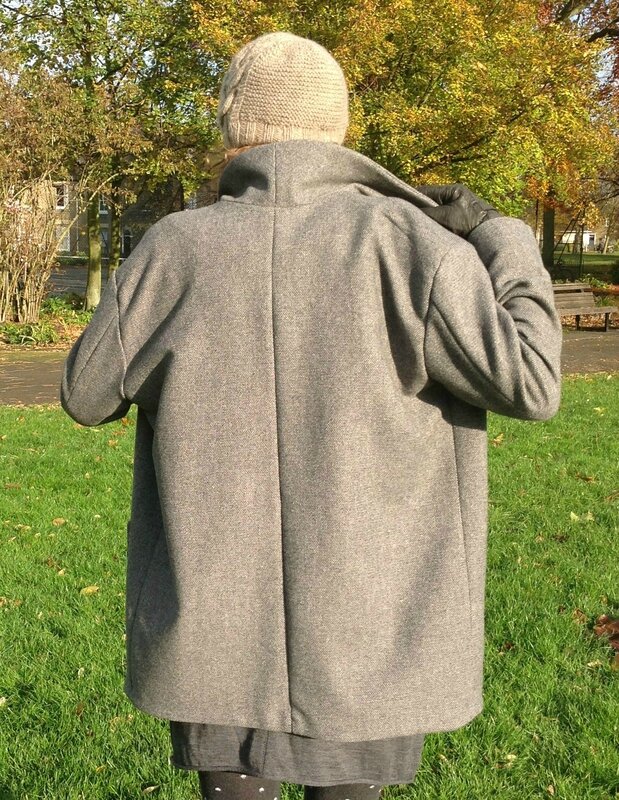 Methods:
Gérard, from La République du chiffon, size M, no modification. The pattern is available in French and English here.
Fabric: Wool-cotton mix from Sacrés Coupons, bought at the same time as my friend from Lou&Jo found the fabric for her Bellaskirt.
Le Trendy Chale
Gérard is at its best worn open and thus you may need a little something to protect your bare neck in the thick of winter. Something cosy and warm.
If you knit and are French, there is one item you must ABSOLUTELY whip up if you want to preserve a shred of knitter credibility: The Trendy Chale by Melle Sophie.
Trendy is mindless knitting at its best. You start with 3 stitches and end up with more than 250, increasing one stitch at the end of each row of garter stitch, 2 stitches before the end. And that's all there is to it.
There is no beating around the bush. Trendy is a long (albeit highly addictive) project. I recommend that you get yourself a full TV series of your choice before you get started: crime series such as Silent Witness or Sherlock are perfect for the job, or the new Spanish blockbuster 'El Tiempo entre Costuras', a gripping tale which narrates the life of a stylish seamstress in Spain during the Civil War and World War II. Sales of sewing machines are said to have soared since the show was aired. The pattern designer Pauline Alice explained all about it here.
Given its simple design, the key to a lovely Trendy resides in the choice of wool. The softer, the better. After extensive research on French blogs and French pages on Ravelry, I set my heart on a mix of Drops Baby alpaca and Kidsilk (bought from Nest), I knitted the chale 2 strands together on circular needles size number 5.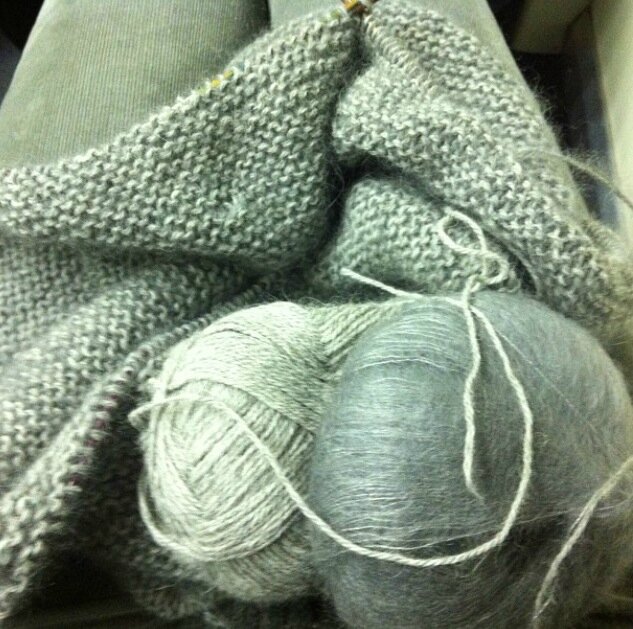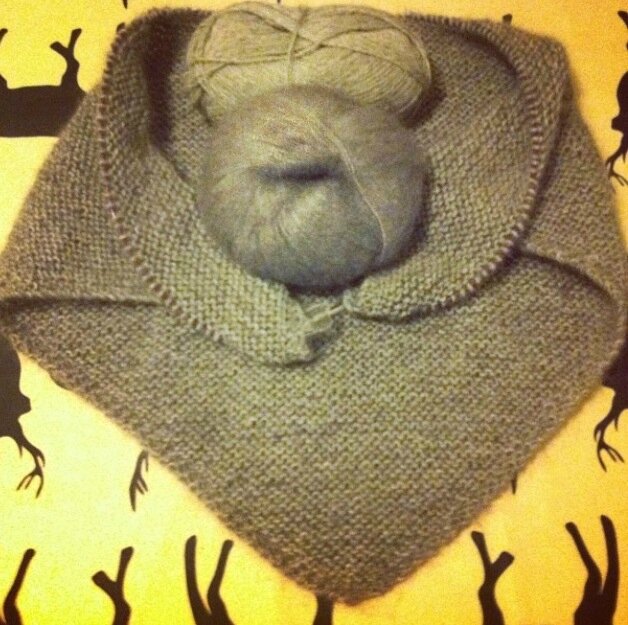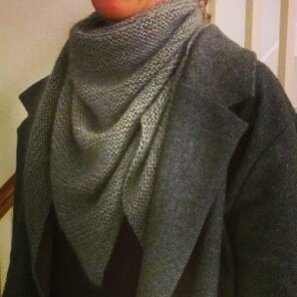 This particular trendy, knitted with 150 g of Baby alpaca and 75 g of dropsilk, has a width of 1m50 for a height of 70 cm after blocking. This size is just right to wear it around the neck.