07 avril 2014
I run and I sew. I am not the only one out there. Winnie from the Scruffy Badger Time is pretty good at it! I am just a beginner for both activities, with lots to learn!
This year, I ran my first half-marathon- in shorts, under a beautiful sunshine in Cambridge. It was great to see how runners helped each other to reach the finish line and how the crowd carried runners they didn't even know with their support. Such a nice experience that I hope I will be able to take part in another event soon- despite the muscle pains the day after. Midlife crisis, here you go.
Talking of midlife crisis, shortly after, I felt the urge of sewing the lovely Chataigne shorts from Deer and Doe.
I used a fabulous grey wool from France Duval Stalla. With golden spots, if you please. Pockets were lined with habutai. Love the stuff. T
The pattern? Well, nothing to declare really. Deer and Doe patterns are highly reliable.
I cut it in size 38, even if I normally size up to a 38-40 for deer and doe but others have said this model runs a little wide. I simply added 1.5 cm to the length. I topstitched the front and back seams, as well as the lower part of the waistband. I also understitched the internal part of the belt at the waist.
In action, where I normally like to run (wearing different sorts of shorts, mind you ;-)).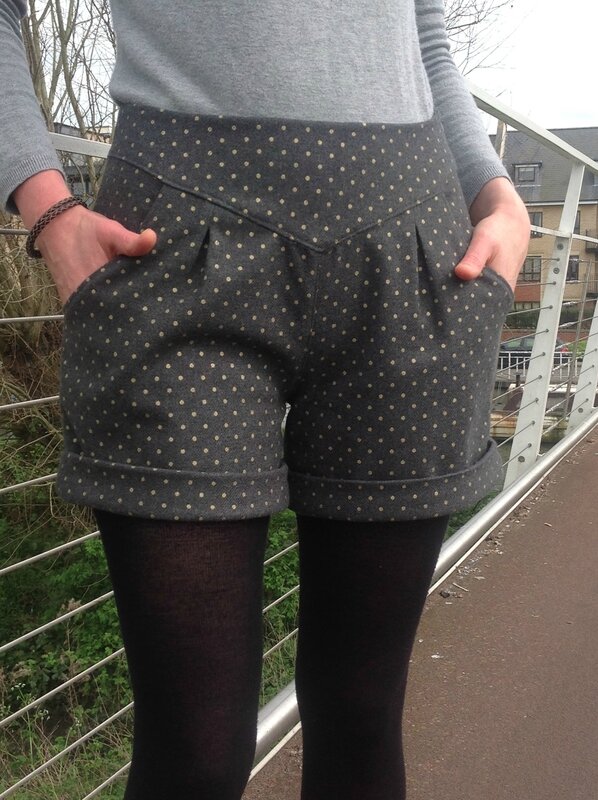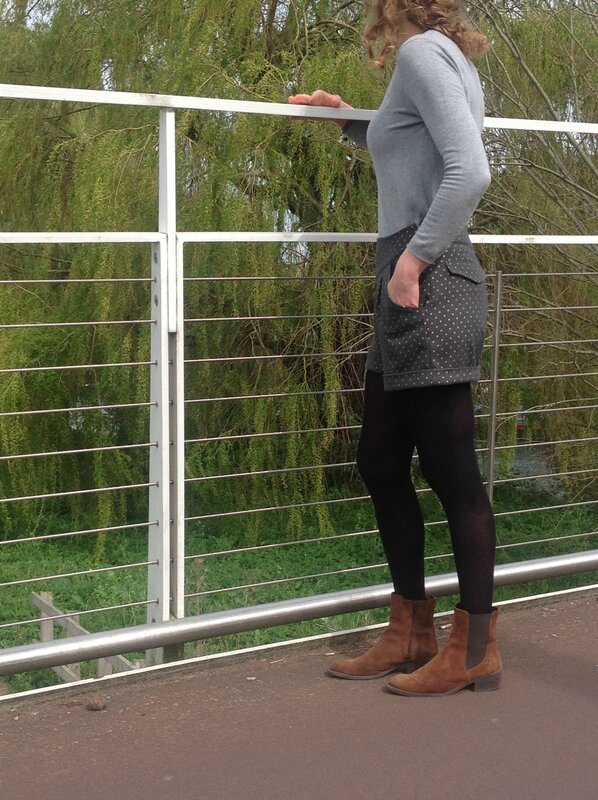 My 14-year old son thinks these are awfully short for his old mum.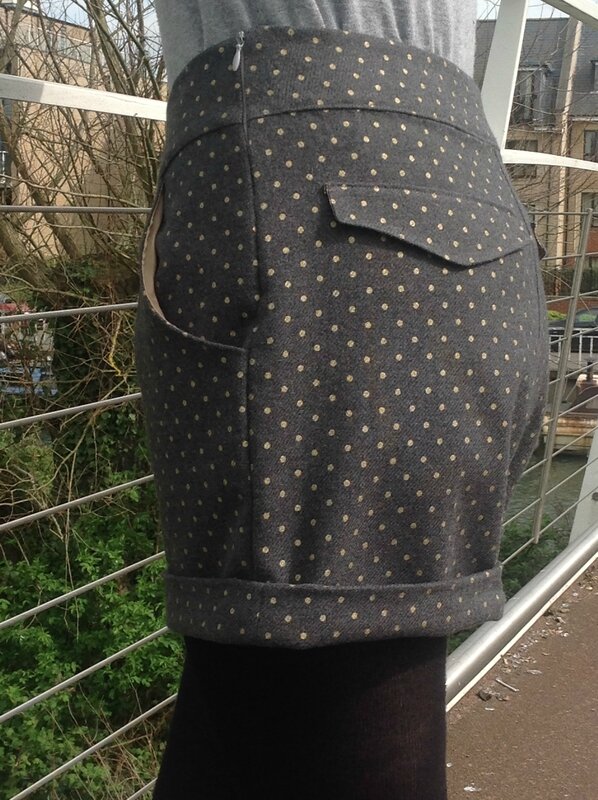 He is likely right. I do hope he will be OK with a summer version though! I am planning a slightly longer one in gabardine.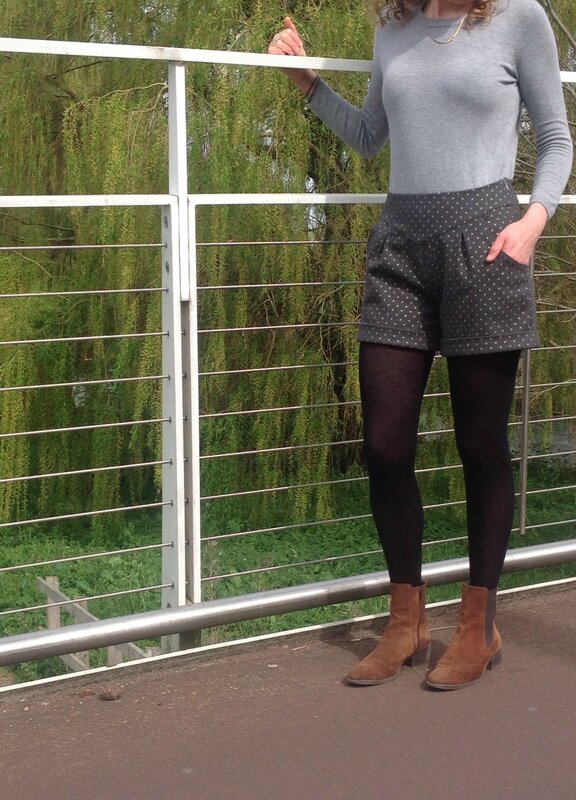 21 mars 2014
French may think Coco goes hand in hand with a boxy tweed jacket and a little black dress.
French are wrong, bien sûr.
Coco is a cute dress or top, designed to be made with knit fabric, from Tilly and the Buttons.
I am a rough girl from Brittany, and this blog is named after a seabird: I had to sew Coco with STRIPES.
One decision less to make. I like that.
Tilly encourages everyone to make Coco their own and provides great tips for inspirations here. I spent far, far too long on the blog La Mariniere which I discovered thanks to her post last weekend. Not much Coco sewing was done, I had to catch up during the week!
So, here is my Marinière Coco, navy blue and cream, with a few modifications.
The thin sweater fabric I used was bought in Madrid in the Temple of the Best Spanish Fabrics, Donna Tela, located a stone throw from the famous Real Madrid Stadium.
Vive l'Europe!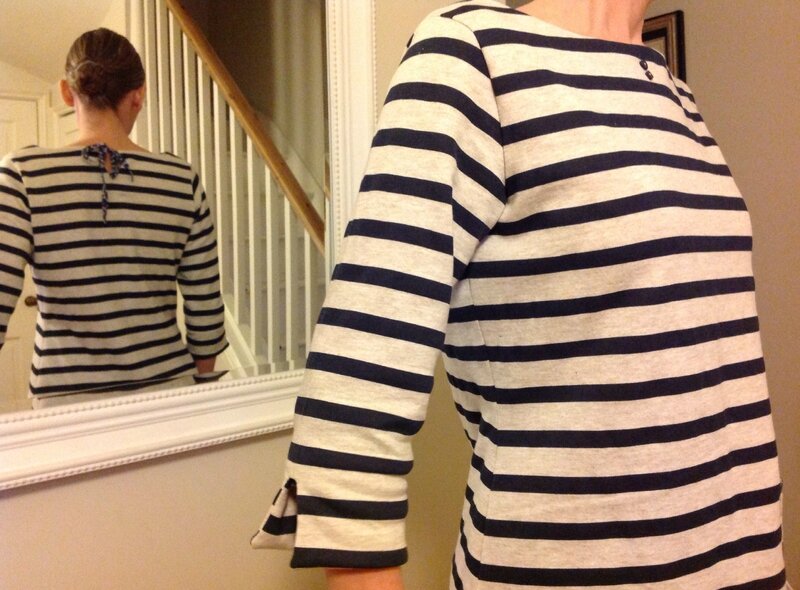 The slit in the back is inspired directly from a sweater from Cozy little world. She explains how to sew it on her blog.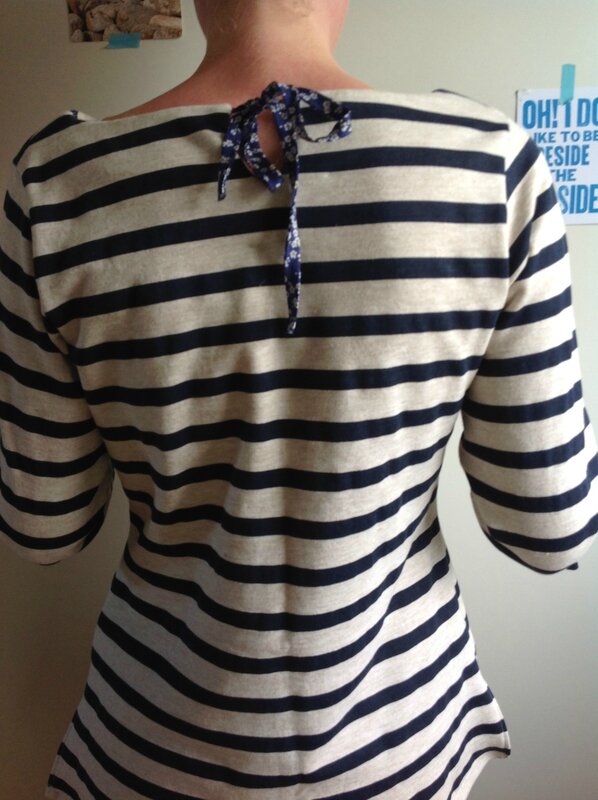 French ADORE a touch of liberty on their home-made creations.Here I used a biais tape Mitsi Valeria
I fell in love with the slits in the sleeves from the Moelleux sweater by Aime comme Marie. I adapted the instructions from Cozy little world to attach and slit facings to the sleeves.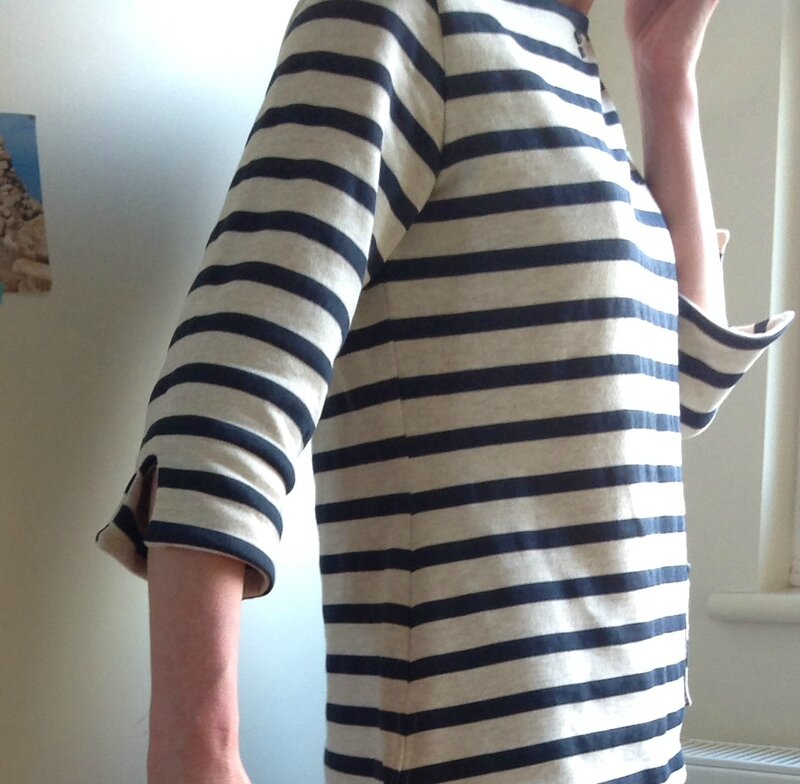 This was still all a little blend. Luckily, my friend Cath suggested to add a button. Or two.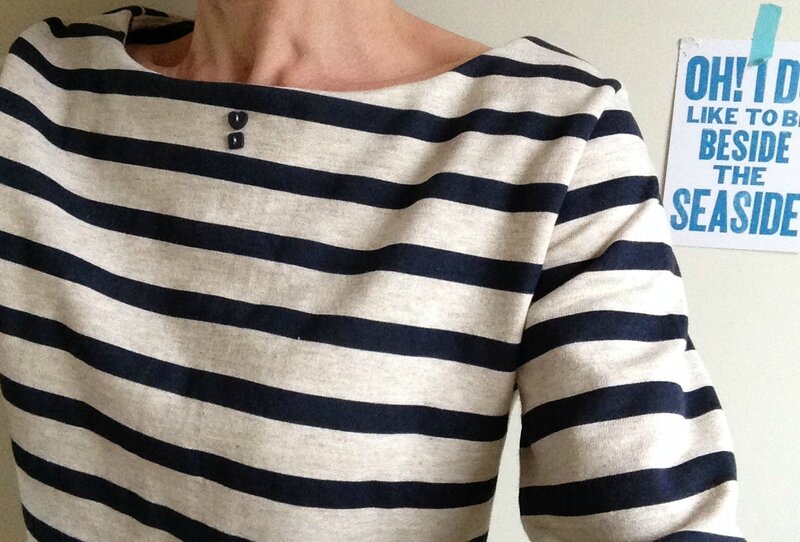 The inspiration from the pocket came to me when perusing La Mariniere blog. Any similarity with the logo of a French car brand is purely coincidental.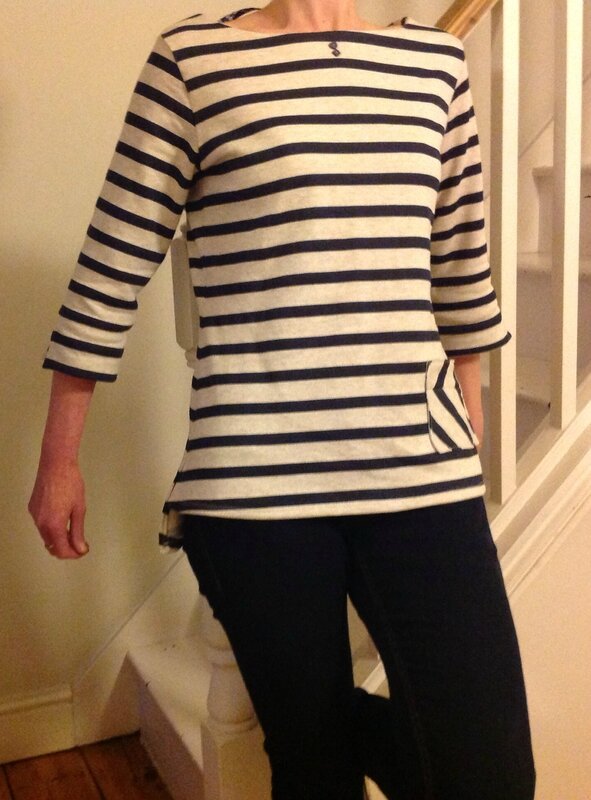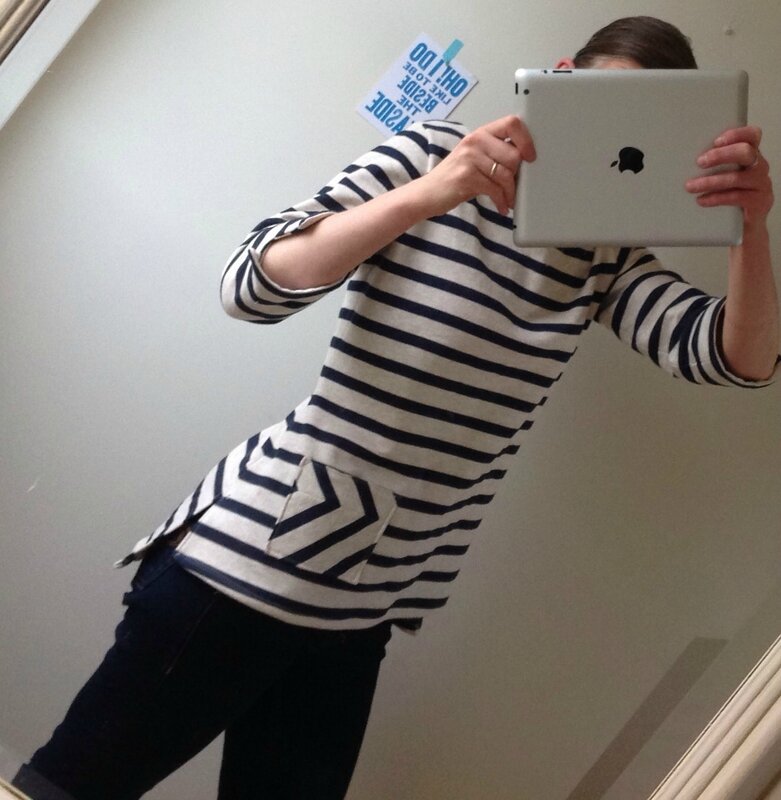 I intentionnally left a longer back so I could wear Coco with skinny jeans.
The fabric inside the pocket is called 'Vue sur la tour Eiffel' and is designed by Fifi Mandirac for Atelier Brunette.
My daughter generously gave me a scrap of this fabric after she used it to sew a new bag for her ballet and tap shoes.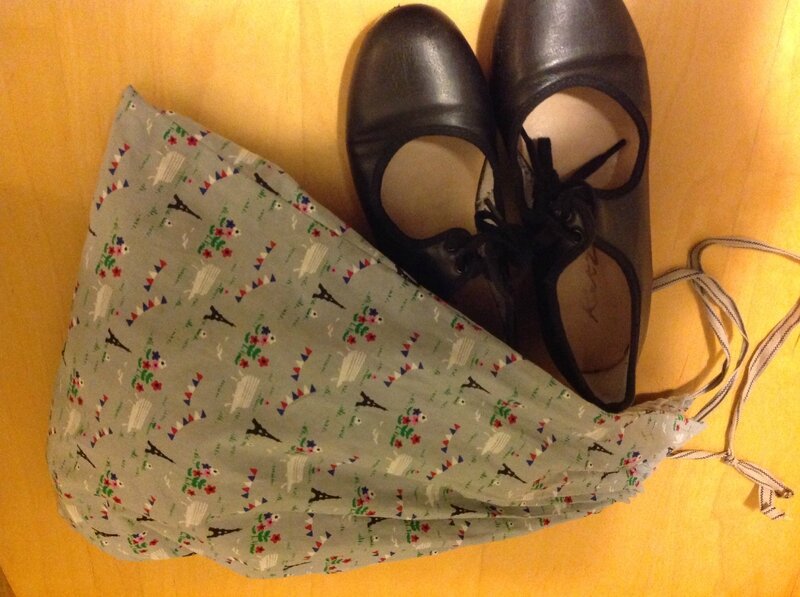 So, it is Friday, it is Spring, it is time to raise our glass to Coco !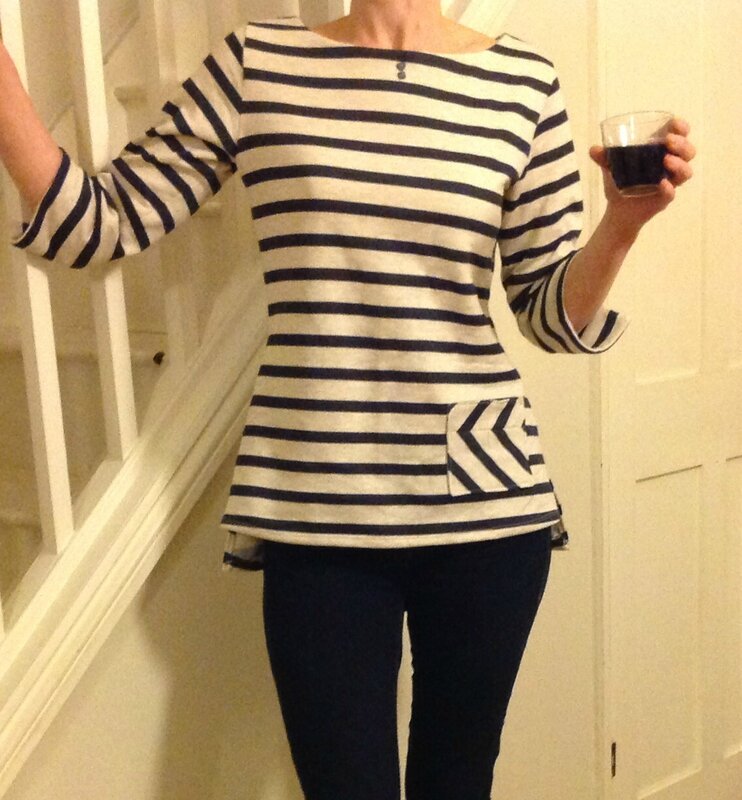 And if you want to see plenty of interesting Cocos, follow this link to the Coco Party held at Tilly and the Buttons, or check the hashtag #sewingcoco on Instagram!
25 février 2014
The Urge to rustle up a new special-occasion homemade outfit can hit you at any time. And not necessarily when you have a lot of spare time either. I was still feeling the jetlag from a trip to Canada when I realised I had NOTHING to wear to a dear friend's birthday party.
It did not matter I had only a week-end to make my dream outfit from start to finish. The Urge was strong. I knew which model I was going to sew as I had been day-dreaming about it for a couple of weeks already: La Petite Robe from Vanessa Pouzet. The pattern is available to download from her website directly.
Having recently admired the Tania Culottes my friend Cath made, I thought it would be a good idea to try this pattern in crepe. But after gasping at the £37/meter price tag on the black wool crepe at my local John Lewis, I settled my heart and my wallet on a 100%-polyester lookalike crepe. Navy blue, or better suited for the occasion, Midnight Blue.
First, let's clarify my main sizing issue. As I have mentioned before, I have VERY broad shoulders. Embarrassingly off the charts. And they are rather disproportionate compared to the rest of my body.
See below: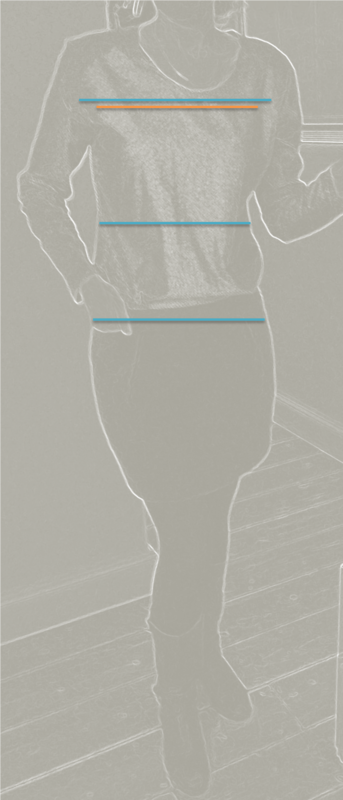 My bust front width, at shoulders level is 36 cm (blue line). The orange line corresponds to the width for a size 40, which is 31.5 cm. I almost never buy fitted clothes because they are either too small at the top or too wide at the waist.
But I discovered recently that the best part of sewing your own clothes is that you can actually tailor them to fit you! This is what I did for "La petite Robe". Following the chart provided by the pattern, I cut a size 44 from top to under arm, 38 from there to waist and 40 for the hips region.
The instructions are a dream to follow and guide you through sewing a fully lined dress with an invisible zip in less than 48 hours. Really, I only bought the fabric at lunch time on Saturday and even went for a rather long run on the Sunday morning.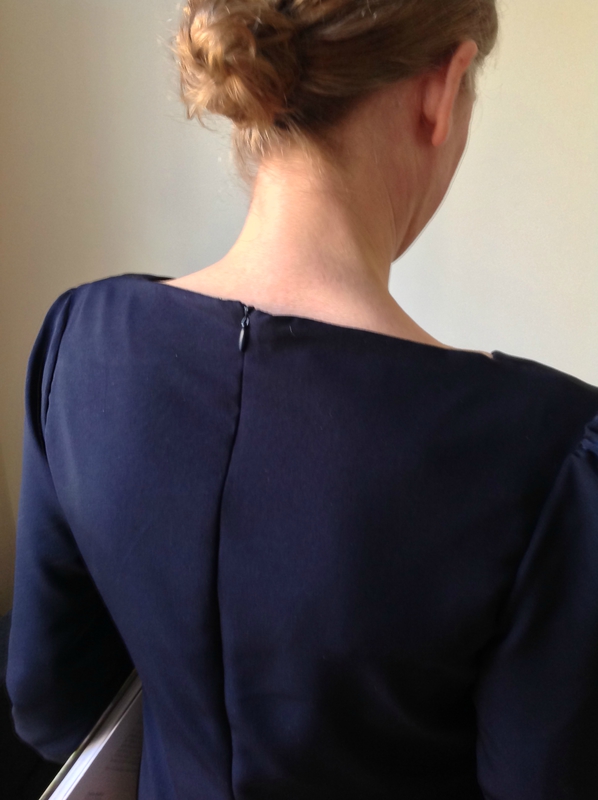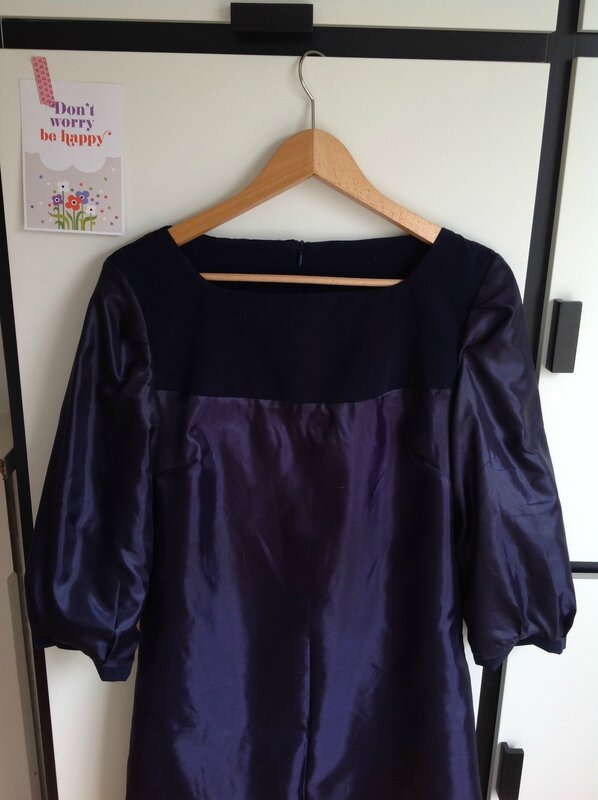 I took a calculated gamble, namely that the fabric being polyester, it would not REALLY need washing before sewing. OK, I am not sure it was an altogether wise move - I have not washed the dress yet.
For once, the in-house Paparazzi was happy enough to take care of the photo shoot. Perhaps he fell under the spell of this charming pattern too.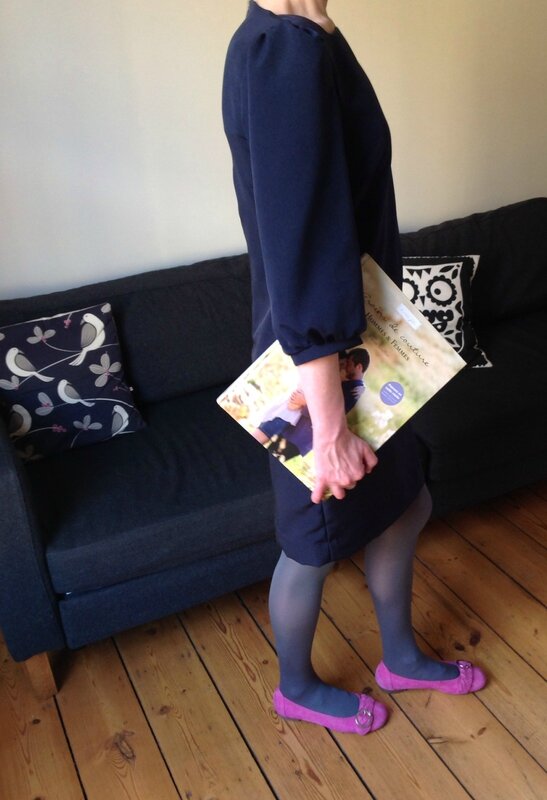 Or is he getting interested in this new book I received for my birthday that includes patterns for men's clothes?
Two hours before the party, I had a hard time finding the RIGHT tights–shoes combo.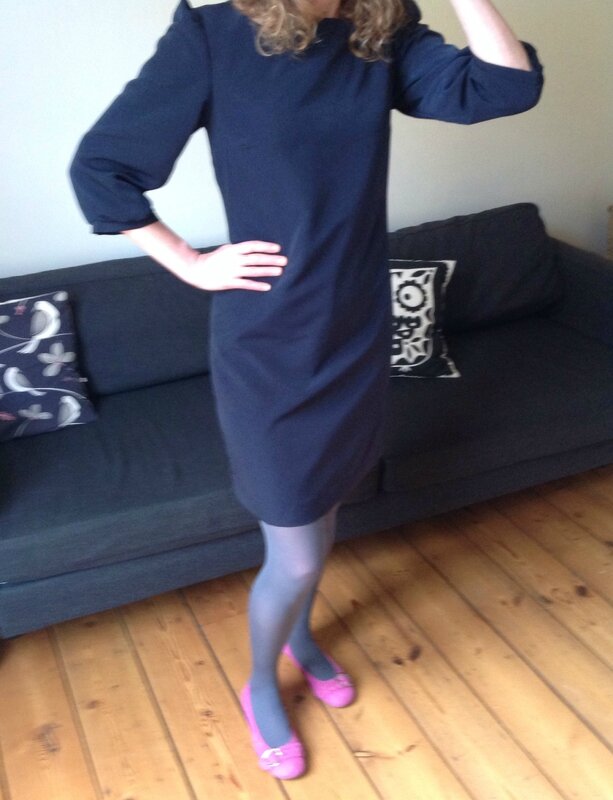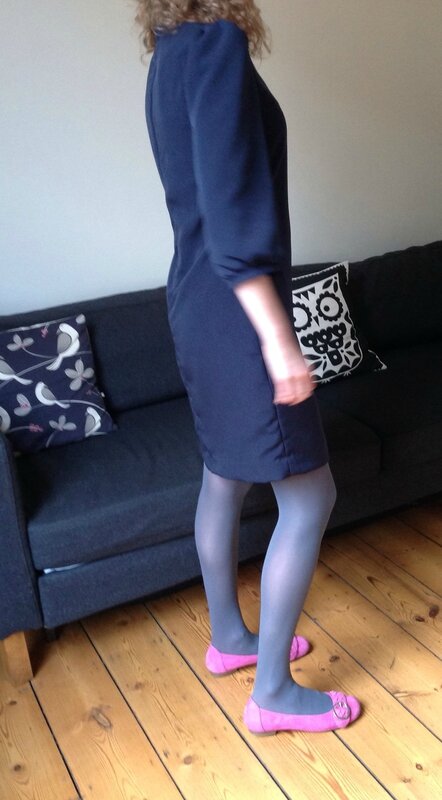 Hum, these grey tights are a bit dull with pink ballet pumps, even if they are hot pink.
Definitely too French – Blue dress, White legs, Red shoes? What was I thinking?
Oh, well, I had to make a last minute dash to the shops!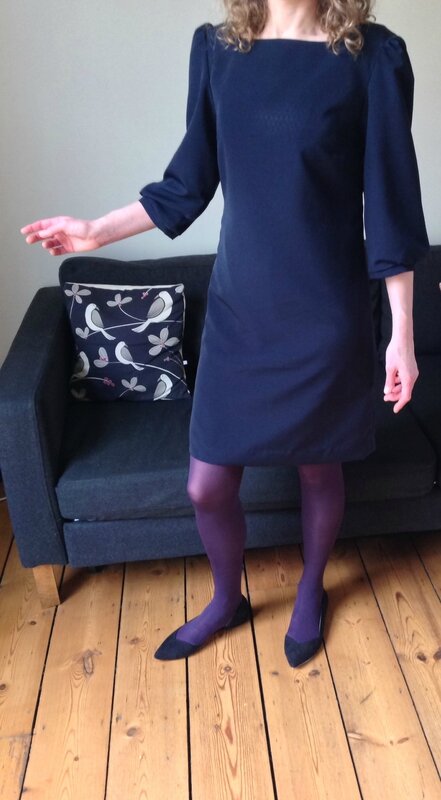 11 février 2014
One day, Gérard appeared on Géraldine's shoulders from La République du chiffon.
Géraldine is the author of Un été couture , a collection of patterns for summer, which I think is by now being perused by all French sewists planning their summer outfits by the fireplace. Géraldine also has started to propose patterns on her website- and she works so fast, it can be hard work for the sewer at home to keep up with all these ideas.
Gérard is a coat with a boyish cut, very popular at the moment. I had what I thought was the a good match for it in my stash: a cotton-wool mix grabbed on a Paris trip to the Mecqua of affordable luxury fabric that is Sacrés coupons, at the bottom of the steps leading to the Sacré-coeur in Montmartre.
This cut is perfect for the thin and elegant stylish sewing French ladies in Paris and in Province. But would it work on this Breton Kittiwake who has very broad shoulders (and which have nothing to do with any swimming talent, by the way)?
Moreover, when Gérard was luring me into sewing 'him', I had never sewn a jacket, let alone line one.
Lining? Ah, yes, lining. How to choose the right colour of lining for a coat?
I could not make up my mind in the fabric shop.
I have in my stash a few liberty fabrics that I absolutely love but often find too osé for a garnment. Strawberry thief (originally designed by William Morris) is one of them. I know, it seems crazy to line a coat with such expensive material, but you know what? I am so happy everytime I grab Gégé that it is totally worth it. I highly recommend this splash of luxury. I am seriously considering lining another jacket with a different Liberty lawn very soon.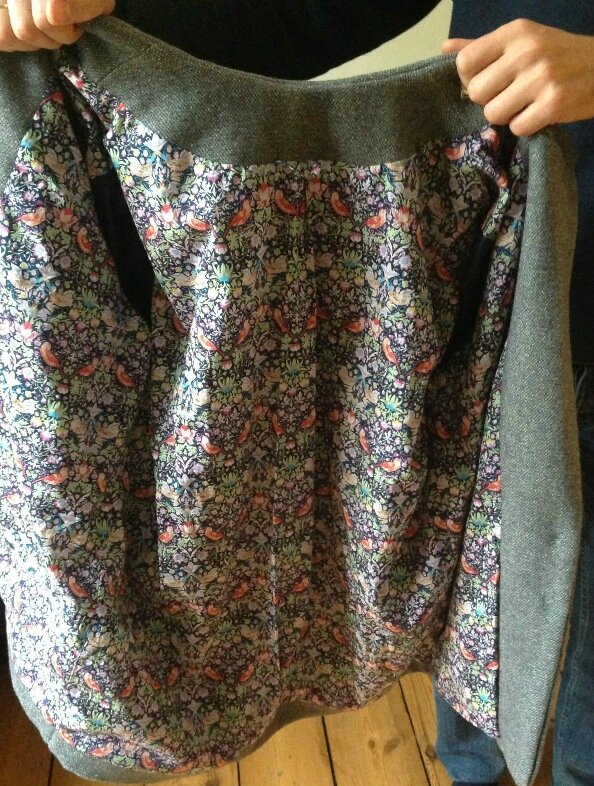 The pattern instructions are very clear regarding how to assemble the collar.
However, I had a few issues when it came to lining. Luckily, Géraldine and other sewers answered my questions as quickly as their network allowed them. Merci!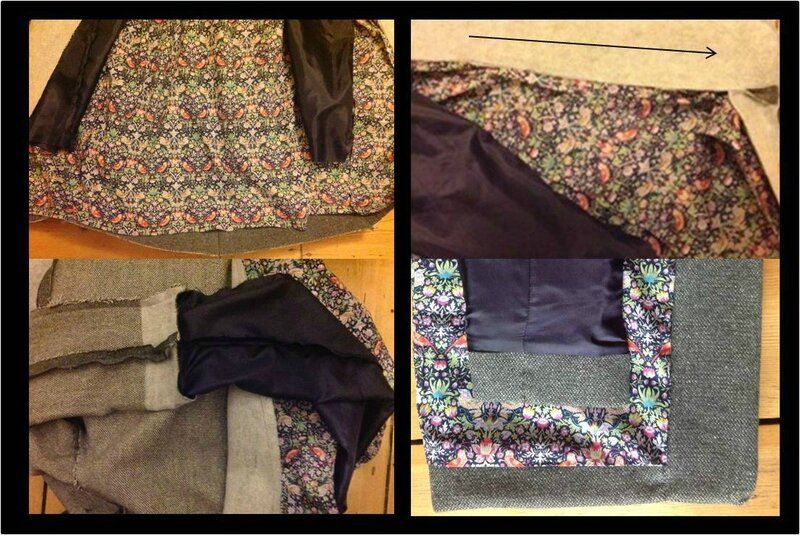 I sewed the lining and the coat separately, leaving a large hole in one of the seams of the sleeves lining. I then assembled the lining and the coat, right sides together, starting by sewing the bottom facing of the coat with the bottom of the lining, and following with the sides facings and the lining. Finally, I had to get the sleeves together on each side of the coat (see picture) and I sewed the hems of lining and sleeves fabric together. You then turn around the whole coat through the hole, et Voilà. I am sure there are better ways of doing it but this one sort of worked for me – at least for this time around!
If you follow the pattern instructions closely, it's not hard. By bird brain was just being slow as it normally is.
My friend Osiris (who is English and originally thought I was crazy to line my coat with Liberty Tana Lawn but has now come round to the idea) took the pictures.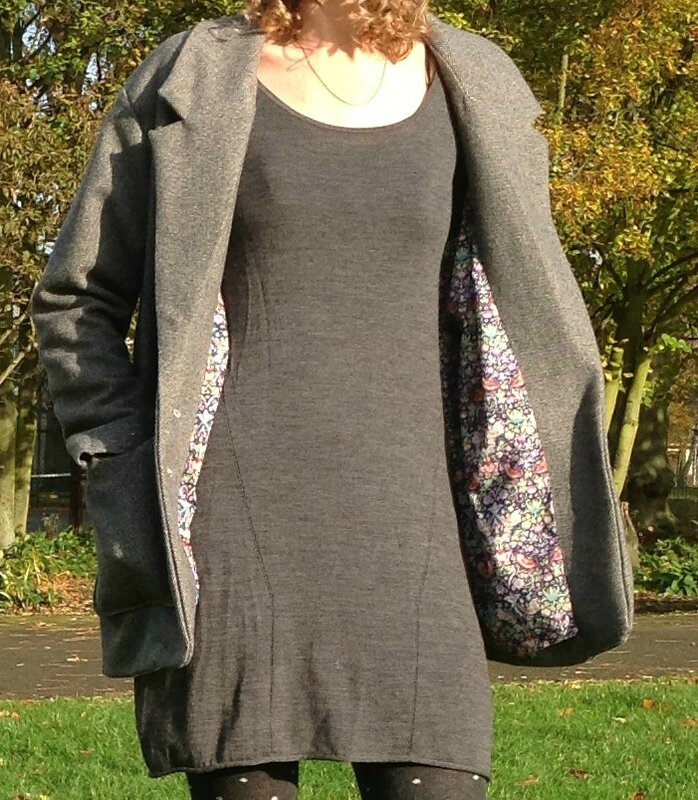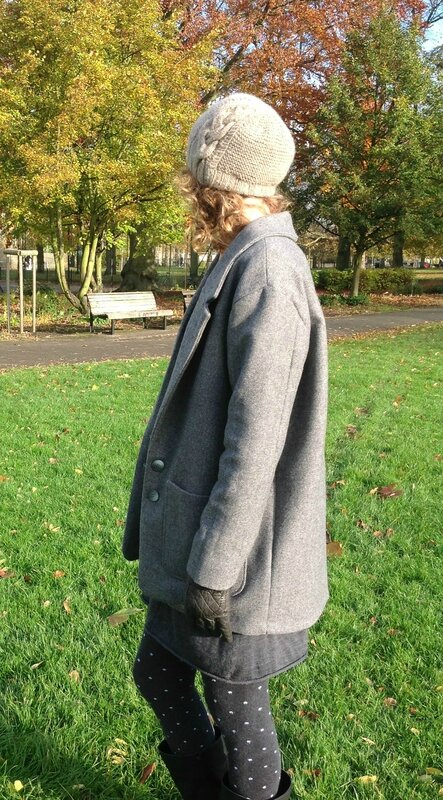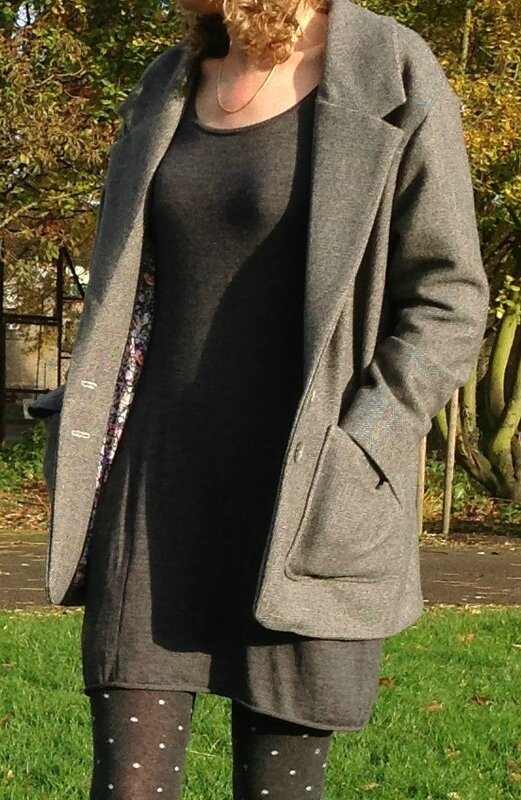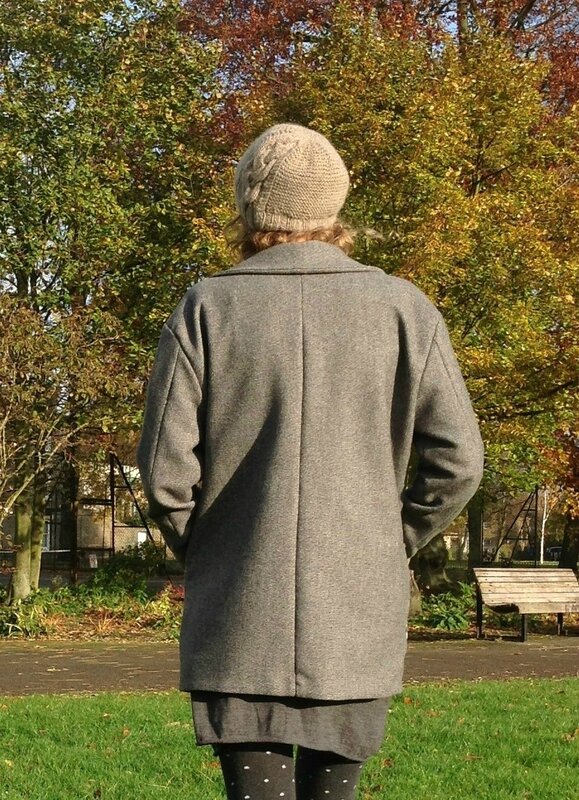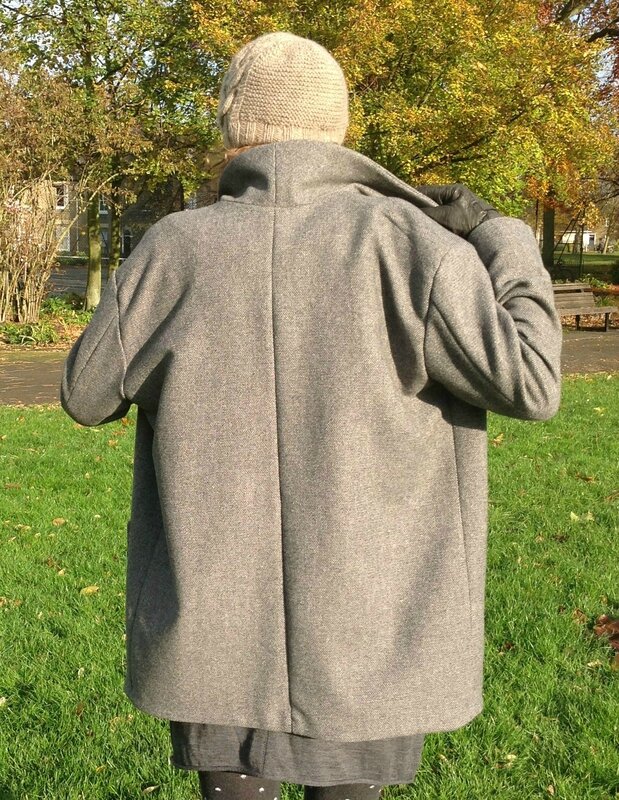 Methods:
Gérard, from La République du chiffon, size M, no modification. The pattern is available in French and English here.
Fabric: Wool-cotton mix from Sacrés Coupons, bought at the same time as my friend from Lou&Jo found the fabric for her Bellaskirt.
Le Trendy Chale
Gérard is at its best worn open and thus you may need a little something to protect your bare neck in the thick of winter. Something cosy and warm.
If you knit and are French, there is one item you must ABSOLUTELY whip up if you want to preserve a shred of knitter credibility: The Trendy Chale by Melle Sophie.
Trendy is mindless knitting at its best. You start with 3 stitches and end up with more than 250, increasing one stitch at the end of each row of garter stitch, 2 stitches before the end. And that's all there is to it.
There is no beating around the bush. Trendy is a long (albeit highly addictive) project. I recommend that you get yourself a full TV series of your choice before you get started: crime series such as Silent Witness or Sherlock are perfect for the job, or the new Spanish blockbuster 'El Tiempo entre Costuras', a gripping tale which narrates the life of a stylish seamstress in Spain during the Civil War and World War II. Sales of sewing machines are said to have soared since the show was aired. The pattern designer Pauline Alice explained all about it here.
Given its simple design, the key to a lovely Trendy resides in the choice of wool. The softer, the better. After extensive research on French blogs and French pages on Ravelry, I set my heart on a mix of Drops Baby alpaca and Kidsilk (bought from Nest), I knitted the chale 2 strands together on circular needles size number 5.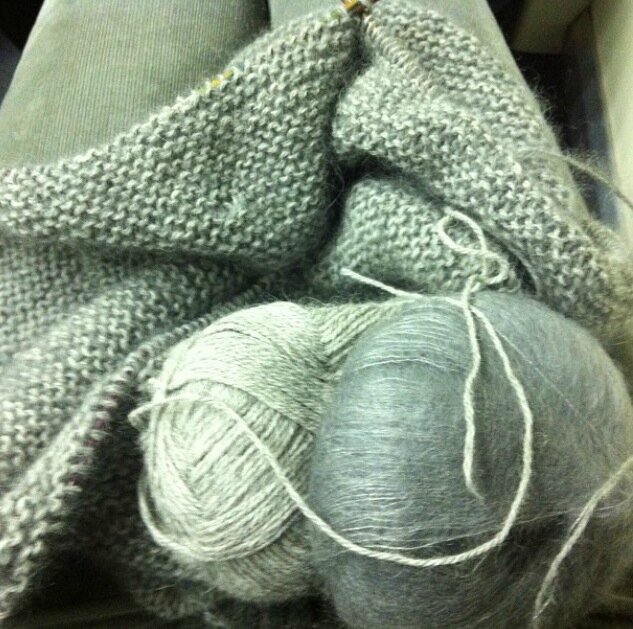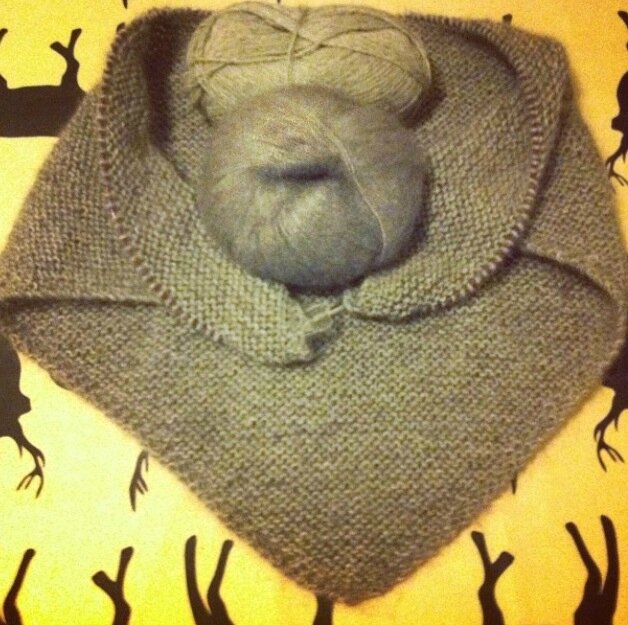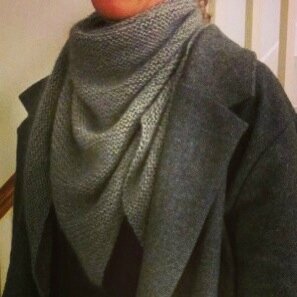 This particular trendy, knitted with 150 g of Baby alpaca and 75 g of dropsilk, has a width of 1m50 for a height of 70 cm after blocking. This size is just right to wear it around the neck.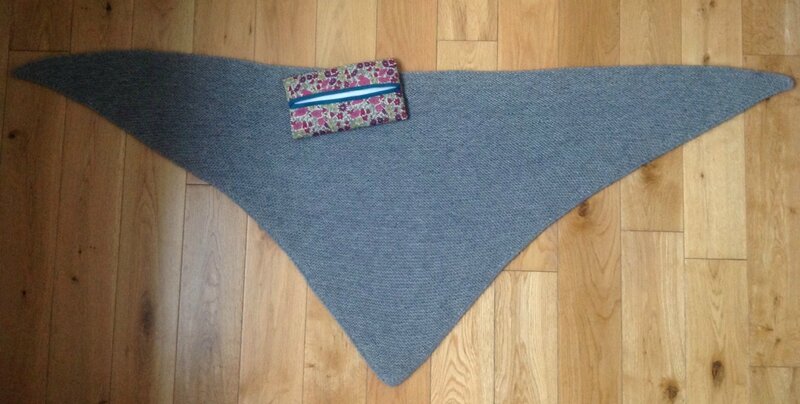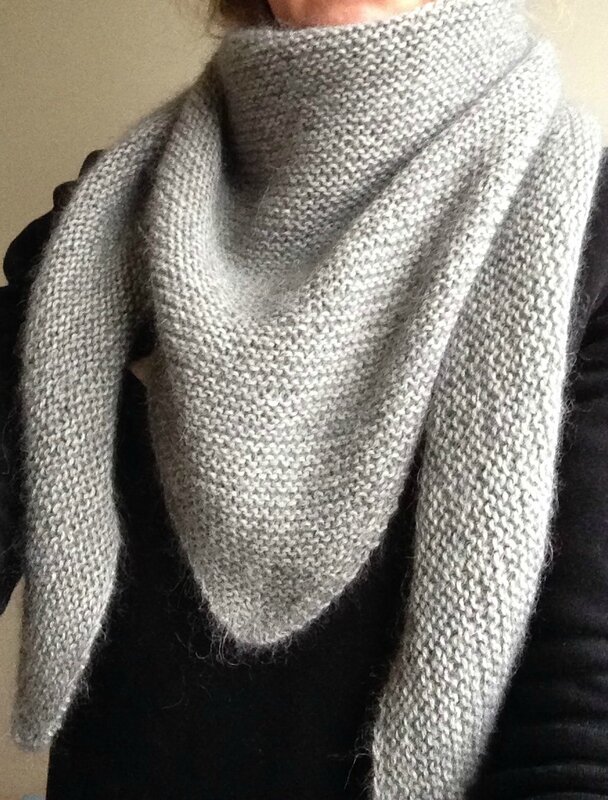 06 février 2014
Sewers out there: have you ever thought how nice it would be to meet one of your favourite bloggers IN REAL LIFE? Would you say no to a rendez-vous with a designer whose patterns and photo-shoots have a certain je ne sais quoi about them? One whose style and inspiration extend to cooking meals fit for a boutique restaurant or customising shoes?
No, you would not.
I could not believe my ears when my guru asked me if I had any objections to meeting Vanessa Pouzet for lunch on my autumn trip to Paris. I had to pinch myself twice. In between fabric shopping expeditions, we met in a brasserie with Celynn from Les Reloux and whiled away the hours over a glass of Bordeaux, mulling over sewing and design ideas.
Day into night is Vanessa's latest top, a ruched crossover knit that takes you from a day shopping in the city to THAT party with just an easy wriggle in the ladies' powder room. The pattern is available in English here, where you can also check out the fab versions made by Vanessa.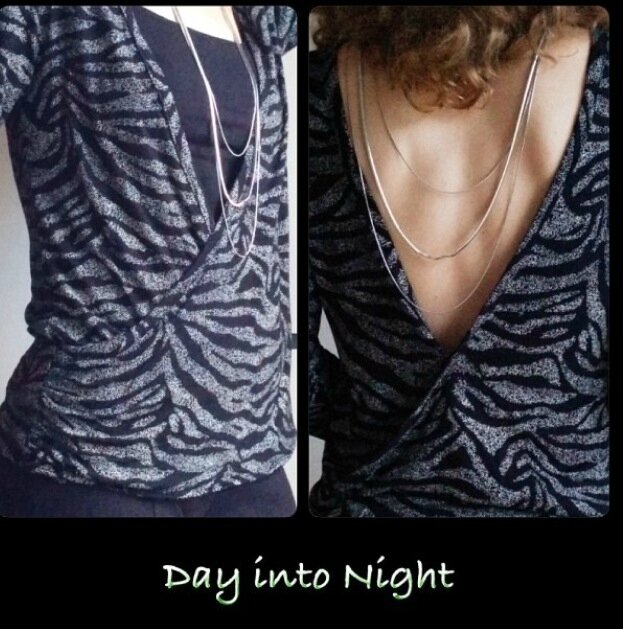 I discovered Day into night just before the string of parties running up to Christmas. This was also right after falling in love with Hisako Sato's Drape Drape. Vanessa's smart top happened to match my sewing mood at the time to a T.
I used a two-way stretch fabric from my local John Lewis with lots of drape -perhaps even a little too much... The dotted pattern reminds me of both aboriginal prints from Australia and the Pointillism technique.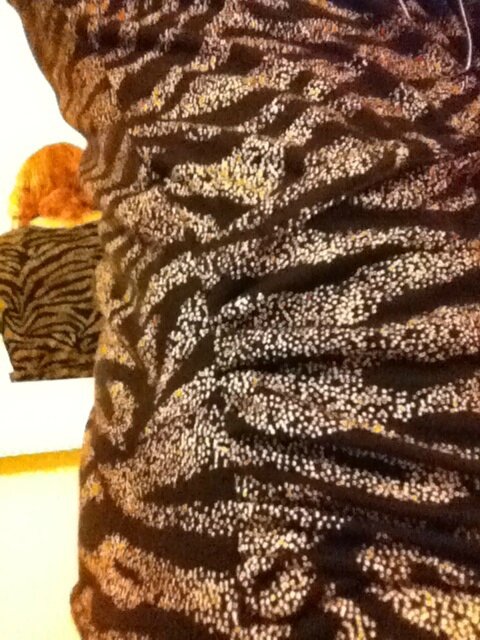 I did this one in size 40 to accommodate my broad shoulders. With clear instructions,it is easily finished in one sewing session after work. You directly cut out your chosen size from the PDF pattern and you are ready to sew in an instant.
That is, provided your lovely husband has correctly printed the pattern pieces:
Printing patterns both sides (no matter how lovely they are) does not work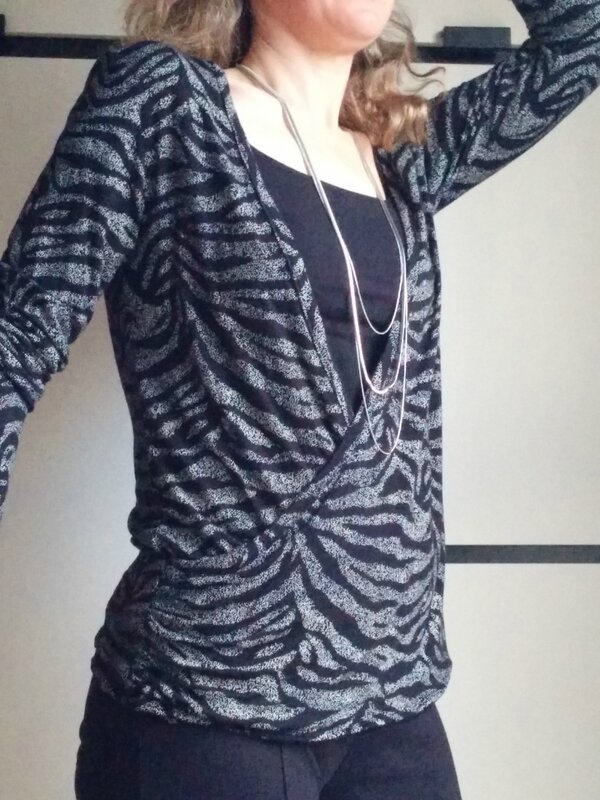 Vanessa wears with with style her Day into night back to front. Although I love it on her, given the drape and design of the particular fabric I used, I find that wearing the top with the crossover in front spices sufficiently an outfit for a night-out!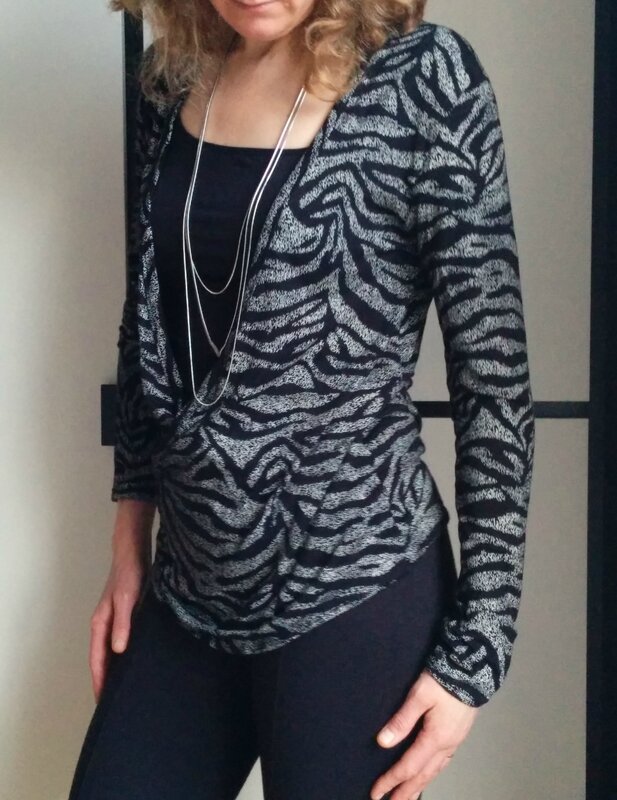 Vanessa has an uncanny ability to come up with original constructions which are simple enough for beginners but offer great scope for customisation.
Last june, her Today Woman was my first knit garment. Her instructions for sewing knits guide you smoothly through this rite of passage and I sewed it in a flash. I liked it so much I had to whip up another right after for a friend who fell in love with it. We wore them all summer.
French and Breton Stripes
Last autumn, my daughter sewed herself Vanessa's Today T-shirt, and I also adapted this pattern for a matelassé jacket for her, using fantastic fabric from France Duval Stalla.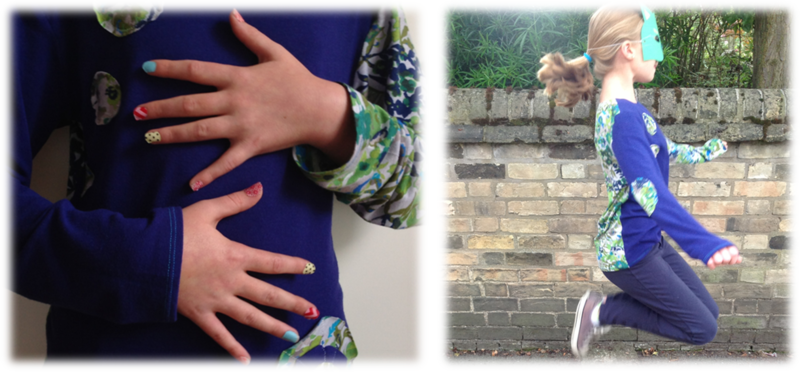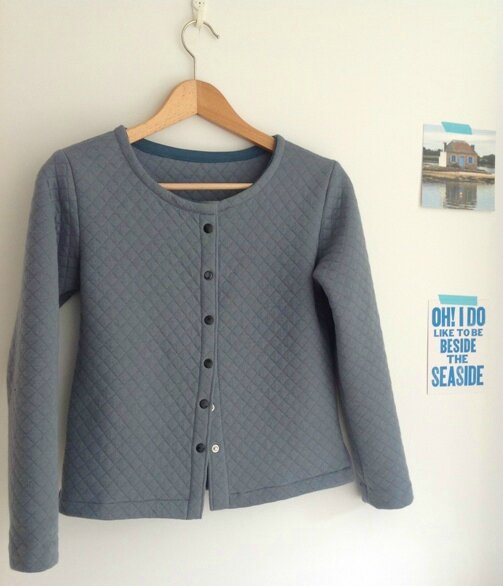 The above patterns are already available in English and there is an 'addicts' site where you can see what others have created from her patterns.
If you are still with me, you are in for a treat: Vanessa is offering anyone reading this post a 20% discount (simply enter the code KITTIWAKE) on the patterns in English, valid until 14/02/2014. What are you waiting for? A great opportunity to add a Parisian touch to your wardrobe!
As for me, I am perusing over my stash of fabric, hoping to find a good match for her latest sophisticated pattern, "La petite robe"...
Happy sewing!